VAPORESSO GEN / GEN S 220W STARTER KIT
Tình trạng:

Còn trong kho
(
Giá sau Thuế: 1,650,000đ
)
The Vaporesso GEN S Edition will come with the GEN Mod in Summer Edition colorway, NRG-S Tank, GT4 Meshed Coil, and GT Meshed Coil. The GEN S Edition will be stated in the dropdown menu (if not stated, it will be original GEN).
Giảm ngay 50% Túi Đựng Vape Carbon
Giảm ngay 30% bông gòn Vape Bacon Prime tốt nhất
Giảm ngay 10% mua đầu đốt Tank khói vị
Tặng bông gòn miễn phí
Tặng coil vape miễn phí
Tặng hộp đựng pin miễn phí
Giao lưu và hướng dẫn build coil vị khói miễn phí
Trải nghiệm dầu các loại miễn phí
Thành viên VIP sẽ được giá đặc biệt +
Mua Phụ Kiện Vape giá đặc biệt
Kiểm Tra Vệ Sinh Vape miễn phí
Được Cà phê thương gia miễn phí
The Vaporesso GEN TC 220W Starter Kit is a high-powered vaping system equipped with a comprehensive temperature control suite, embedded with the new AXON Chipset and is paired with the flawless Vaporesso SKRR-S Sub-Ohm Tank to create a cloud-chucking vaping monster that will satisfy any level of vaper. Within the zinc alloy chassis is a AXON Chipset that results in a broad range of applicable resistances for the GEN Starter Kit and allows the GEN to access other modes like Pulse Mode. This innovative Pulse Mode fires every 0.2,s to maintain the temperature control settings previously input, creating a delicate controlled vaping experience.  In addition, the AXON Chipset releases the full potential of the GEN Starter Kit, unlocking the comprehensive temperature control suite to adjust the temperature of the hit to maintain a smooth and enjoyable vape that can be further adjusted to find the absolute perfect vape, Furthermore, the Vaporesso GEN 220W TC Box Mod is paired with the Vaporesso SKRR-S Sub-Ohm Tank, a versatile tank holding up to 8mL of today's most popular eJuice, utilizing coils from either the Vaporesso QF Coil Series or the Vaporesso GT Coil Series within the SKRR-S  Sub-Ohm Tank to create luscious clouds of dense flavor.
Vaporesso GEN 220W TC Box Mod Features:
AXON Chipset
Dimensions - 146mm by 54mm by 30mm
Dual High-Amp 18650 Batteries - Not Included
Wattage Output Range: 5-220W
Resistance Range: 0.03-5.0ohms
Zinc-Alloy Chassis Construction
Soft Touch Rubberized Coating
Power Mode
Pulse Mode
Intuitive Firing Button
OLED Display Screen
Two Adjustment Buttons
Short Circuit Protection
Burn Protection
No Load Protection
Overtime Protection
Low Resistance Protection
Low Power Protection
Overcharge Protection
ESD Circuit Protection
Pass Through Protection
MicroUSB Port
Available in Silver, Black Blue, Black Red, Black
Vaporesso SKRR-S 26mm Sub-Ohm Tank:
26mm Diameter
30mm Diameter At Widest Point
8mL Max Juice Capacity
Superior Stainlesss Steel Construction
Pyrex Glass Reinforcement
Quadflow QF Air Distribution System
Vaporesso QF Coil System - Flax & Cotton Wicks
0.18ohm QF Meshed - Rated for 55-85W
0.18ohm QF Strip - Rated for 60-90W
Vaporesso GT Coil Compatible
Quad Trapezoid-Shaped Airflow Control
Convenient Threaded Top-Fill Design
810 Delrin Widebore Drip Tip
510 Connection
Available in Silver or Rainbow
Includes:
1 Vaporesso GEN 220W TC Box Mod
1 Vaporesso SKRR-S 26mm Sub-Ohm Tank
1 0.2ohm QF Meshed Coil
1 0.15ohm QF Strip Coil
1 5mL Replacement Glass
2 O-Ring
1 MicroUSB Cable
1 User Guide
1 Warranty Card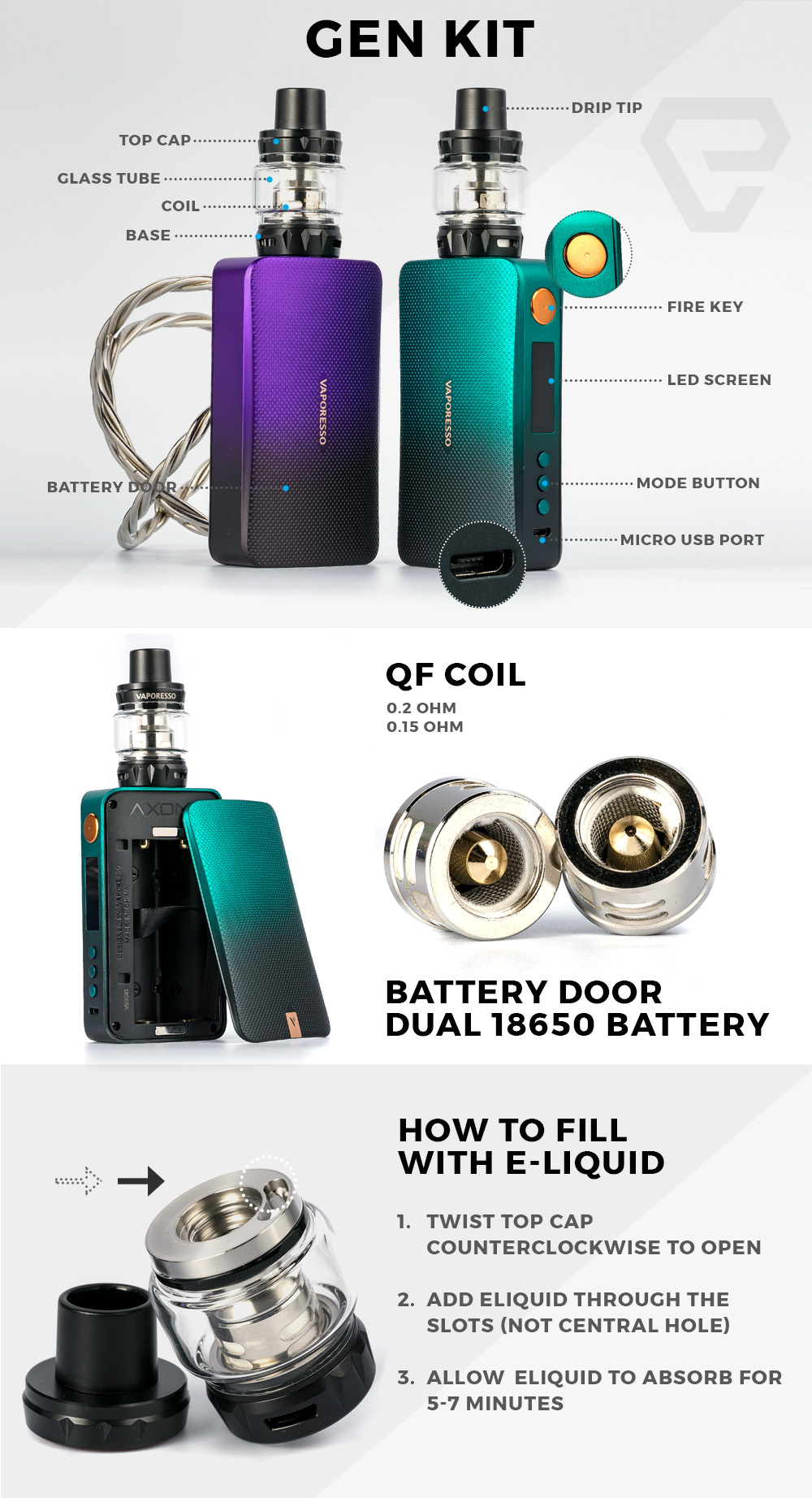 Please have a great understanding and technical knowledge on how to use this product in order to properly use it.
We highly recommend using an external battery charger for 18650 battery mods, as it helps with balanced charging and prolongs the life of the battery and mod, such as from worn out microUSB port. Never use damaged or improperly wrapped batteries with this device. We recommend all 18650/20700/21700 battery mods to use matching batteries with similar brand, model, and battery state at all times.
In order to use temperature control feature, it requires use of nickel, titanium, or stainless steel coils.
Note: There is always an inherent risk when using any rechargeable batteries at any time and under any circumstances. vapehcm.vn and any of vapehcm.vn's parent and subsidiary companies are not held responsible for any damage for any modification of the batteries, chargers, devices and other products that we carry in any form or shape, this is including pack making.
vapehcm.vn and any or all of vapehcm.vn's parent and subsidiary companies will not be held responsible or liable for any injury, damage, or defect, permanent or temporary that may be caused by the improper use of a Li-ion (Lithium-ion), LiPo (Lithium-ion Polymer) and any rechargeable battery/batteries as well as chargers. Please have a greater understanding of the batteries/chargers you are using and how to care for them properly.
When working with Li-ion (Lithium-ion), LiPo (Lithium-ion Polymer) and any rechargeable cells, please be cautious and carefully use as they are very sensitive to charging characteristics and may explode or burn if mishandled. Please make sure that you have great knowledge on all rechargeable batteries before you use them. Always charge batteries at the clean and fire-proof surface. Never leave charging batteries unattended. If you see that there are visible damages on the batteries, please do not use. Always keep, store and transport the rechargeable cells in a safe, non-conductive container in a controlled environment
Do not use any rechargeable battery as well as any battery charger if any visible damage is present, as well as if the cell or charger has been stressed through mishandling, accidental or otherwise, even if damage may not be visible. Always store and transport rechargeable cells in a safe, non-conductive container in a controlled environment. Please dispose of battery cells, chargers or any other electronic devices in accordance with local laws and mandates.
---
Từ khóa: VAPORESSO GEN S 220W STARTER KIT, pod chính hãng, pod giá rẻ, vape shop hcm, vape shop quận 4, pod quận 1, vape quận 9, Vape quận 2, vape q4, shop vape quận 7, juice vape hcm, Vape quận 10, vape hcm, vape giá rẻ, pox hcm, pod giá rẻ, tinh dầu vape giá rẻ, Tinh dầu vape chính hãng, phụ kiện vape chính hãng, phụ kiện vape hcm