Smok MICO 26W 700mAh AIO Pod System
Tình trạng:

Còn trong kho
Bán SMOK Mico Resin AIO PodSystem shisha vape thuốc lá điện tử tinh dầu chính hãng ở tại hcm - Giá sỉ rẻ nhất - Cai thuốc lá
Giảm ngay 50% Túi Đựng Vape Carbon
Giảm ngay 30% bông gòn Vape Bacon Prime tốt nhất
Giảm ngay 10% mua đầu đốt Tank khói vị
Tặng bông gòn miễn phí
Tặng coil vape miễn phí
Tặng hộp đựng pin miễn phí
Giao lưu và hướng dẫn build coil vị khói miễn phí
Trải nghiệm dầu các loại miễn phí
Thành viên VIP sẽ được giá đặc biệt +
Mua Phụ Kiện Vape giá đặc biệt
Kiểm Tra Vệ Sinh Vape miễn phí
Được Cà phê thương gia miễn phí
Smok MICO Pod System, which is the newest portable pod system vape kit, it adopts a classic resin design, 7 fashionable resin colors available, the unique multicolored fluid lines look like abstract oil paintings, processing a stylish and elegant high-gloss finish. the Smok MICO kit with pocket size, vapers can carry it with ease. it built-in 700mah battery, the intelligent LED lights will show you the battery life easily, vapers can charge the built-in battery by connecting to a wall adapter via the micro USB port directly. there are three replacement pods for the new smoktech pod system, all of the pods can hold 1.7ml e-juice, the packing includes two different pods, one with 0.8ohm mesh coil, another with 1.0ohm regular coil head. and the Smok Replacement Pod with 1.4ohm ceramic coil optional will bring you the different vaping experience. the mouthpiece of Smok Starter kit is ergonomically designed that is the best fit for your mouth to provide more comfortable vaping experience. the exclusive lanyard included, which is attached to the lateral side of the Smoktech kit for both aesthetics and portability. there is a toggle switch on the side edge when pushing the switch up, the device powers on, and the LED indicator will flicker 5 times when pushing it down, the device powers off. the Smok Pod System provides multiple safety protections to avoid potential risk and ensure the vaping safe and reliable.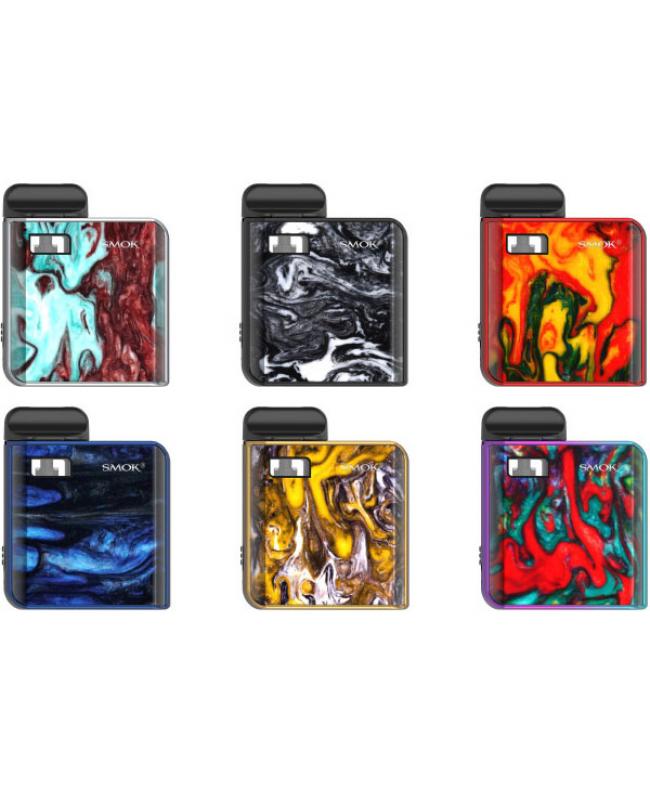 Quick Links:
Features:
Material: Zinc Alloy

Colors: Prism Chrome, Black, Red, Prism Blue, Prism Gold, Prism Rainbow, Green

Size: 56.3*46.5*14.8mm

Battery Capacity: Built-in 700mAh

Output Power: 10-26W

Input Voltage: 3.3-4.2V

Output Voltage: 3.0-4.0V

Standby Current: <20uA(No load) / 100uA(Load)

Charging Output: DC5V 0.5A

Charging Voltage: 5V

Charging Current: 0.37A

Resistance: 0.6-2.0ohm

E-Liquid Capacity: 1.7ML

Replacement Pod With 0.8ohm Mesh Coil(Included)

Replacement Pod With 1.0ohm Regular Coil(Included)

Replacement Pod With 1.4ohm Ceramic Coil(Optional)

Ergonomically Designed Mouthpiece

Decorative Lanyard For Practical Use

Intelligent LED Indicator Lights

Air-Driven Pod System

ON/OFF Toggle Switch

Unique Colorful Resin Panels

Micro USB Port For Charging

Intelligent Pod Detection

Short Circuit Protection

8 Seconds Cut-Off

Low Voltage Protection
Includes:
1*MICO Pod System Device
1*Extra Replacement Pod With 0.8ohm Mesh Coil
1*Extra Replacement Pod With 1.0ohm Regular Coil
1*Lanyard
1*USB Cable
1*User Manual
Note: please ensure you have basic knowledge on how to properly to use it.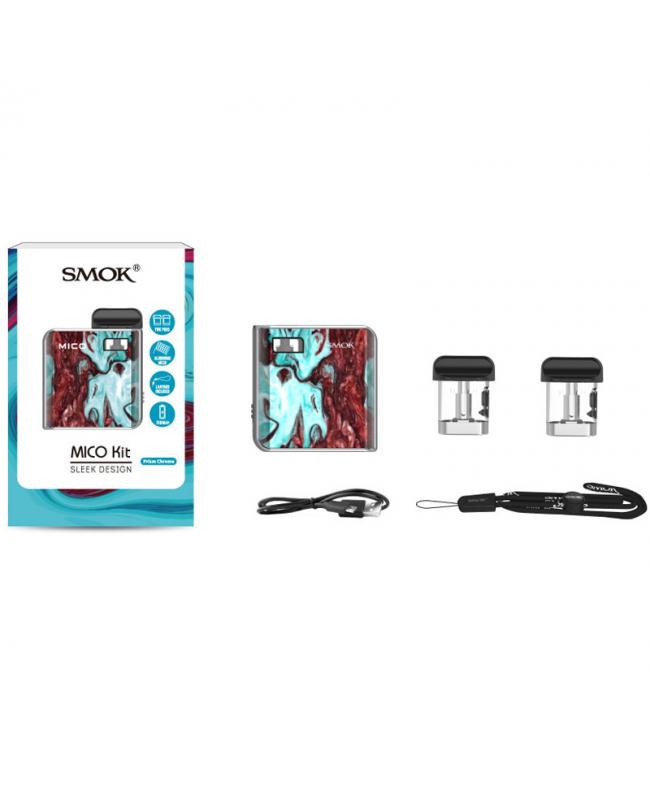 1)If the tanks use sub ohm coils, vapers must be sure that your device and batteries can handle sub ohm coils, only recommend experienced users order this, extra safety precautions should be practiced when using a sub ohm tank. the tank only work with the mod that can support the atomizer and coil.if you have a tank and resistance is 0.3ohm, you must sure that the mod or battery can support resistance low to 0.3ohm.improper use and lead to injury or damage.use the OHMS LAW Calculator to check.if you have question,please feel free to contact us.
2)if the coils are sub ohm coils, the user should be sure that the tank and mods can handle the sub ohm resistance coils, please make sure you have the great understanding of them, if you are not sure, please do not order and use, welcome contact us any time to get help.
3)users need pay attention to Li-ion cells when vaping.the batteries very sensitive to charging characteristics and may explode or burn if mishandled.so vapers must have enough knowledge of Li-ion batteries in charging, discharging and assembly before use. please use the fire-proof surface battery charger, never leave charging battery unattended.we will not responsible for damage for the human reason or mishandling of Li-ion batteries and chargers.the device always recommend work with rechargeable lithium-ion IMR batteries with min output current 20A or higher.
4) Smokstore will not responsible or liable for any injury, damage, defect, permanent or temporary that may be caused by the improper use of Li-ion battery, coils, tanks, mods etc.please have a basic knowledge of batteries.welcome to contact us anytime to get help.
---